NX Bar
History of the NX Bar Ranch
The NX Bar Ranch originally consisted of about 60,000 acres and was initially conceived from the purchase of numerous homesteading efforts and small private land ownerships, which were difficult to manage as profit/decent lifestyle enterprises. It has always been difficult to utilize small ownerships in a profitable manner in this eco-type, as forage production levels over time maintain a carrying capacity of 30 to 50 acres per AU over each year.
The Helvey- Burgess families owned the NX Bar when it was purchased by Allen O. Fordyce in 1948. As time went on the ranch ran both cattle and sheep and was operated in co-ordination with other Fordyce land holdings, such as the Bar 13 Ranch now the Flying H.
In the late 1960's amidst controversy and court battles about 40,000 acres of the NX Bar was high fenced to hold and control a privately owned elk herd being put together at the time from elk that could be legally purchased at private treaty.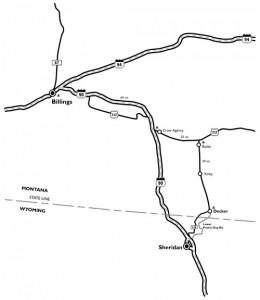 The concept being introduced at the NX Bar was already principally in practice in the state of Texas as well as on smaller scales in other states. Privately owned elk were often available through the Billings Livestock sales ring as a way of controlling populations on such high fenced ranges.
The State of Wyoming tried to stop Mr. Fordyce from holding captive elk purchased from other game ranches saying that it was illegal. There were no laws governing game ranching in Wyoming. After several court battles the Wyoming Supreme Court eventually grandfathered the NX Bar as the only Game Farm ever to be in Wyoming.
The first fence to be built was a small, approximately 900 acre pasture now known as the "Little Elk Pasture" where the first purchased elk were held, approximately 30 head. Then the NX Bar land south of Badger Creek Rd, to which the elk in the little Elk Pasture were transferred as their numbers increased, and finally approximately 23,000 acres north of Badger Creek Rd was completed. In 1978 the Little Badger elk heard was moved by helicopter to the north pasture where it now resides.
In 1973 a commercial hunting enterprise was established on the NX Bar, after hunting was with held for four years. A few elk were harvested including a bull that scored 360 GBC and surplus cows as the numbers increased. Antelope and mule deer were also hunted. A few buffalo were introduced and as time went on grew to 300. Emphasis was on trophy hunts to put more income towards the land resource.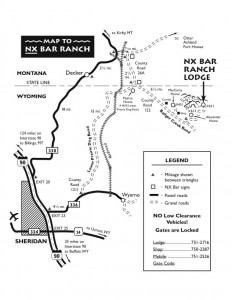 The main philosophy behind the addition of a controlled wildlife enterprise was to utilize a multiple species grazing plan such as wildlife evolution in both continental Africa and North America had taken place. This was to try to utilize total forage species more efficiently and economically with a broad spectrum of animals, both domestic and wild, to increase the ecological and health of the land resources under such a management scheme.
In 1995 the ranch was sold to Hubert Fugger, who managed it as a wildlife operation, increasing the numbers of buffalo to approximately 600 head and removing all domestics.
In 2001 the ranch then sold again to Mack Energy who then removed almost all of the buffalo. The Chase family, friends, employees, and clients now hunt the NX bar. The original lodge has been slowly enlarged and now comprises of a dining-kitchen area and a game room. A very unique Barbeque facility has been built for all to enjoy. More sleeping areas have been included, 2 new cabins and a wonderful meat facility with guides quarters, office area, underground shooting range, and exercise facility.  Mack Chase added a cabin for immediate family and friends.